Physiotherapy & Rehabilitation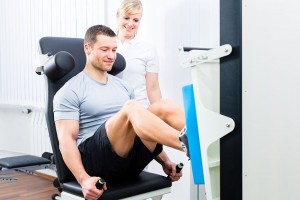 Physiotherapy provides services to develop maintain and restore maximum movement and functional ability throu
ghout the lifespan. This includes providing services in circumstances where movement and function are threatened by ageing, injury, diseases, disorders, conditions or environmental factors. Functional movement is central to what it means to be healthy.
Physiotherapy is concerned with identifying and maximizing quality of life and movement potential within the spheres of promotion, prevention, treatment/intervention, habilitation and rehabilitation. This encompasses physical, psychological, emotional and social wellbeing. Physical therapy involves the interaction between the physical therapist, patients/clients, other health professionals, families, care givers and communities in a process where movement potential is assessed and goals are agreed upon, using knowledge and skills unique to physical therapists.
What Our Patients Say About Us
My physical therapist is excellent! The whole office is very friendly and helpful. Physio is absolutely outstanding. Thank you very much for your great, attentive service
Rajat Jain
Neck Pain Treatment
All of the staff was fantastic! The care I received was impeccable. Great place! I also love the availability of the Fit Plan for continued support after my discharge
Suraj Kumar
Back Pain Treatment
Everyone I worked with was wonderful, very professional, caring and prompt. My therapist was great, as were all of the aids!
Sandeep Monga
Neck Pain Treatment
I had a really positive experience and my shoulder is totally functional again, without pain! I really enjoyed my therapist and all of the rest of the staff
Ankita Agarwal
Back Pain Treatment